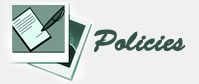 Age Requirement:
Since our condominiums caters to families, we cannot accept reservations for vacationing students. Young singles under the age of 25, unaccompanied by a parent, will not be permitted to register and will be subject to forfeiture of their deposit. Should the accompanying parent not remain with the young singles throughout the entire reservation period, eviction and forfeiture of rent and deposit will occur.


Sea Side Villas does not accept pets into any of our rental units.
Check-In: Check-in is after 4pm. During the months of June and July most condos will not be ready to occupy before 4pm and some Saturdays as late as 5-6pm.


Check-Out: Check-Out is 10am. Please do not return keys to the office until you have removed all personal items from the unit.

All rental payments due upon arrival. Payments may be made in the form of cash, cashier's check, traveler's check, money order, debit cards, or Visa / Master / Discover Card in US funds. We do not accept American Express. Personal checks are accepted with proper ID. Rental rates, registration and cleaning fees are located on the Rates and Specials page of this web site.

Requesting Specific Units: We cannot guarantee a specific unit.
Management will strive to comply with all reservation request. However, due to changes in the rental program, owner request / changes, removal of units from the rental program, and / or mechanical problems, we may not be able to fulfill a specific unit request. Every effort is made to provide you with accurate reservation information. Written confirmations are provided at the time you book your reservation and at check-in. We are not responsible for verbal information given it does not agree with our written printed material.

Cancellation Policy: A $25 cancellation fee is charged for each reservation cancelled 14 or more days prior to date of arrival. $200 cancellation fee for each reservation cancelled within 14 days of arrival. Monthly guest must cancel 60 days prior to the date of arrival.

Security Deposit: A $200 deposit is required to confirm all reservations, payable by cash, cashier's check, or a Visa / Master / Discover Card. Debit cards are not accepted for deposits.
Please call our office for more details about any of the policies listed